DIY Google Maps and the Type-A Traveler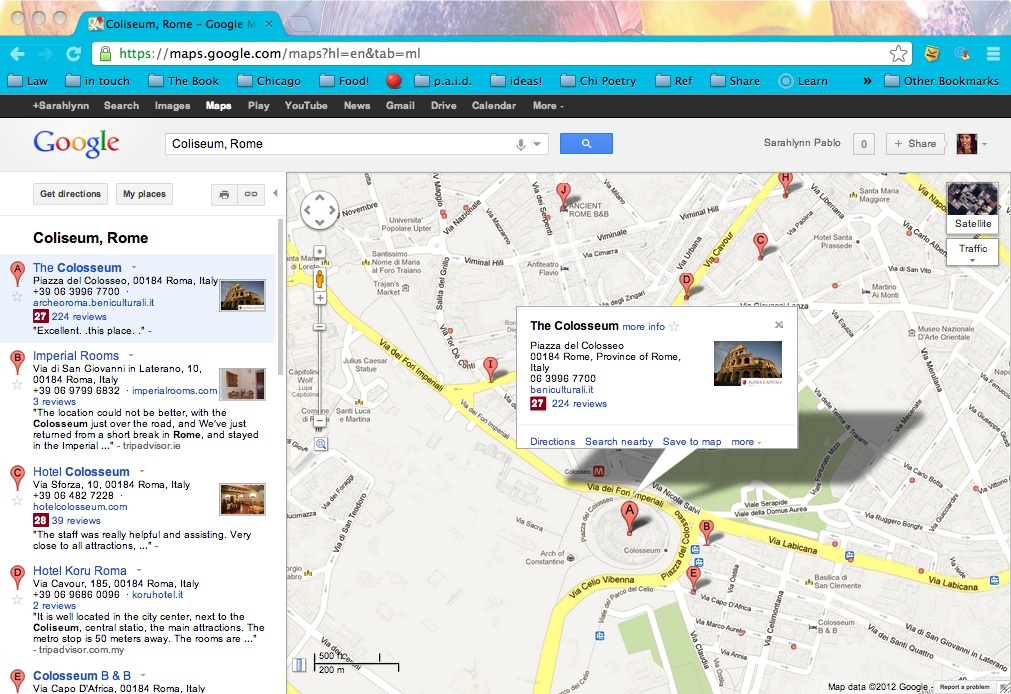 For most major cities I've traveled to over the past 3 years, I've made my own custom Google Map: Detroit, Amsterdam, Paris, LA, Boston, and yes, of course, Chicago. I am...OBSESSIVE. Hello, type-A travelers (overzealous planners), welcome to your fantasy.
Why? (Type-Bs may be wondering.) For one, I like to plan before the trip, not during. When a whole new country and culture awaits just outside your doorstep, the last place you really want to be is on the Internet, right? Mapping out restaurants, cafes, bars, museums and other cultural sites will allow you to cluster your activities in adjacent neighborhoods or along public transportation lines, saving money and time. Best of all, I get to know my adopted home in advance so I can just enjoy where I am instead of figuring out where I am. (If you flip 'on' the Google Street View, you can virtually walk down the street. I know you privacy advocates out there probably just spit up your vente lattes.) For me, there's something about needing to get this worry out of my system, so that once my wheels touch down or I speed past that "Welcome" sign astride the interstate, it never rears its ugly head. 'Never' may be too strong a word. Let's just say, it mitigates the obsessive qualities in me. Moving on.
Your DIY Google travel map will be awesome because it's:
Easy to make... relatively - though they could probably make it easier.
Customizable.
Private or public. No fear if you mark your hotel or your grandmother's house.
Collaborative. If you're traveling in a group, you specify others (by their email addresses) with edit access privileges for the map as well.
Packed with information that others have uploaded to the internet, including handy bits like website addresses and phone numbers.
Portable and a space saver. Combine tips and information from your favorite travel bloggers, Zagat and Chowhound reviews, friends and guidebooks. Print out your map at home and leave behind the bulky guidebook. You can also save the map to your iPhone, an online or a PDF version.
A nice souvenir. Add to your map the fun discoveries you made after the trip so you can revisit them on your next trip.
Here's a quick how-to start a Google Map.
Before I start, if you happen to not have a Google account, you're gonna need to sign up for one of those. Right now. (What, do you still have a Hotmail account?)
Now, log in to your Google account.
Open Google Maps.
Click "My Places" and then, "Create Map."
Think of a name for your map. OK, type that in. (And yes, you can change that later.)
Do you want this link to be private - viewable only by yourself and friends you share the link with - or, in their parlance, 'unlisted'? Unlisted as in unlisted phone number? Cute, Google.
Next, type in the name of a place in the Search field. Let's say I want to go to Italy. (Coincidentally, I do want to go back to Italy.) I type in "Coliseum, Rome." Then something odd happens. Google comes up with four pages of search results. There's only one Coliseum, right? Yes, that's factually correct, but it's misspelled. And, many enterprising hotel and B&B owners with some Internet savvy will rightly mention on their website, along with their physical Rome street address, that they are a few minutes walk from the world-famous Coliseum [other people misspell, too]. Fortunately for me, the first search result, letter A, is the actual Colosseum.
I click the letter A on the map, which pulls up a little window with a thumbnail picture, the actual street address and official Italian tourist website. Then I click on a link in that window, "Save to map."
Boomshakala! You've made a map, hurrah! Keep on saving new locations to your map in that same manner. As with many tech things, there's more than one way to do the same thing. It's designed that way. Google has put together their own Interactive Tutorial, which will likely give you shortcuts and alternate ways to do neat-o isht.
Other nifty things you can do with your DIY Google Travel Map:
Add little notes to each location if you wish, details you'll want to remember once you're there like Tony recommends guided tour in English for 15 euro, 3 pm daily, or for a restaurant, Sarah loved the cacio y pepe. Hit the red "Edit" button next to your map, then choose the place in the list on the left to add a note under "Description."
Save a link to your iPhone. It's a bookmarked link (requires Internet access) to your custom map, but it has its own icon on the screen, so it looks like its own app. Sometimes, I am easily amused. To do this, when on your map page, click "Collaborate." Email the link to yourself. Open email and the link with your iPhone. This will pull up the map on Safari. You'll see an option to "Save to Home Screen."
Save a PDF to your iPhone. Good idea if you're unsure of your Internet access on the road or just want a back-up. I like putting all my PDFs into iBooks.
Print. Because, who wants to bring their cellphone around with them all day in Rome? That's so normal life. This is not that. This is extraordinary, awesome travel.
Share the map with friends and travel mates (link to the URL for copying and sharing is hidden under the button with the chain).
The great part about adventuring is when you have a map, but choose not to use it, abandoning the plan you meticulously sculpted in favor of the beautiful possibility of something completely random.
And the next great part about traveling is when you choose to go some place for which no map exists.
Happy mapping!
Other neat stuff about maps and mapping I've recently read/heard: